Reginah WaterSpirit's Trading Post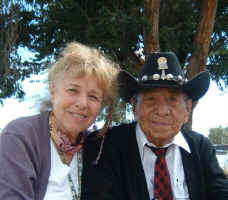 Reginah WaterSpirit, Bear Heart's Medicine Helper for over 25 years, is a talented artist in her own right and a Voice Dialogue Coach. She is making these items and artwork available to all those who have been touched by Bear Heart's work and writings and would like a memento. Proceeds from the sales of these products will be used to honor Bear Heart's memory by allowing Reginah to continue their work, as well as to support a Muskogee Nation - Creek Tribe future community arts programs for young persons. Click on the above picture or the following link to go to the Trading Post web site ( http://www.cafepress.com/Bear_Heart ). Please tell your friends about this site!
The Trading Post has a variety of shirts, totes, teddy bears, and mugs available. Click on the photo to go directly there.


October 25, 2009
Dear Family, Friends and Supporters of Marcellus "Bear Heart" Williams, It's hard to believe that we have been without our beloved Grandfather Bear Heart for just over a year now. We have all continued on with our lives; night continues to follow day, and day continues to follow night, but there is a small space in our heart that feels empty. In our minds, we feel that something is still left to be done; something is incomplete. The time has come to ensure that future generations know that Bear Heart passed this way and touched many lives.
Many More Blessings for you and loved ones,
Regina Waterspirit
(505)348-6612
regina.waterspirit@gmail.com

This page updated 09/21/2015.